I Believe I Can Fly
October 27, 2018 @ 8:00 pm

-

December 5, 2018 @ 11:00 pm

UTC+2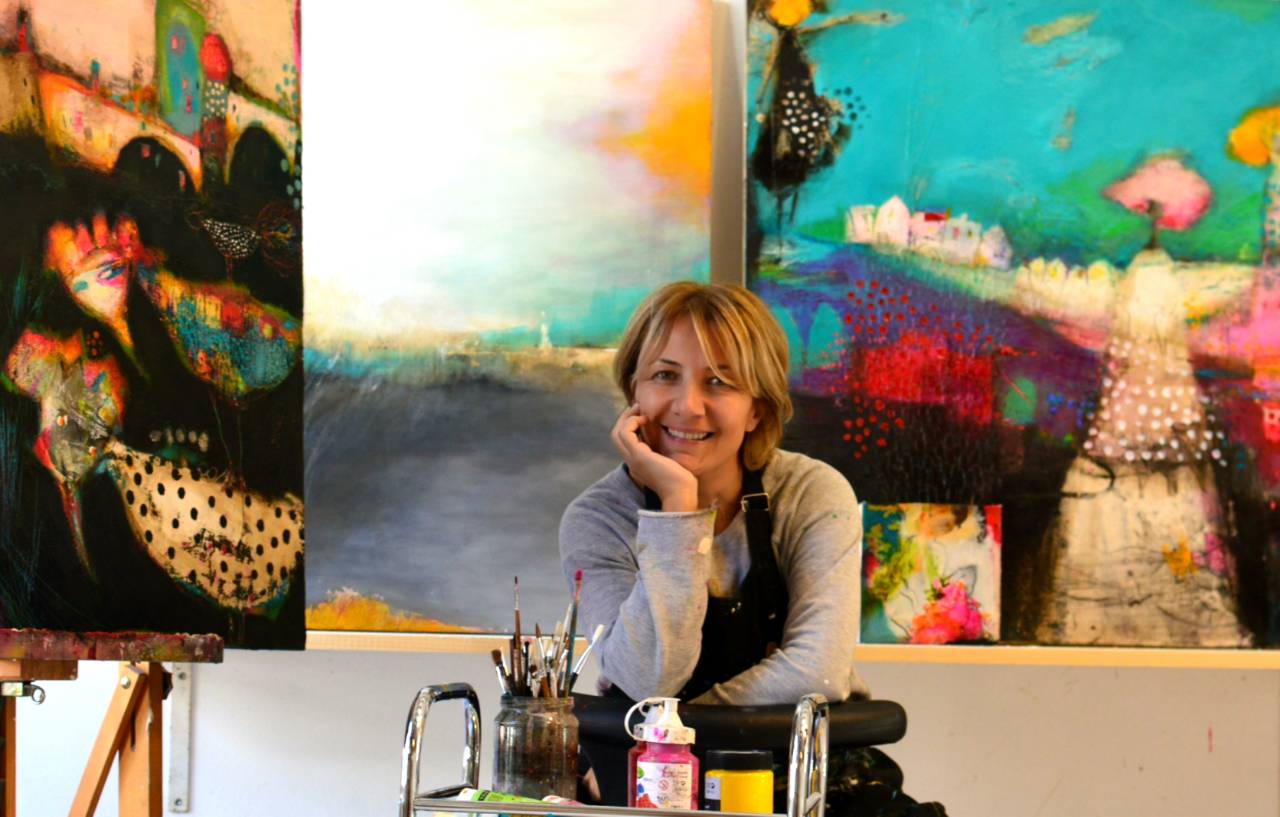 Creating a work of art can truly turn you into a bird; it can inspire the strongest emotion, it can make you happy, it can make you feel as if you were really flying.  In this I completely understand Zani. She spreads her wings to take off. You might say this is overly symbolic, impossible. Quite the opposite! In the sublimity of the creative act, while moving her body in the rhythm of the colour with the power of the brushstrokes she creates new worlds in which the impossible is possible.
It is with great pleasure that I write about a professional, a colleague, a painter, a friend. Having known Zani and her oeuvre for a considerable time, I shall try to fathom her thoughts and worlds.  Each new artwork—despite being an extension of an old feeling, one that she relives in herself, through the essence of comunication, together with her close ones and the environment — creates new cycles of paintings, which are intended for us, for you, for thought.  Beauty as the eternal theme of art also captures Zani as a seeker of smiles, of simplicity, or perhaps of the weight of happiness. The complexity of a person's smile, so sincere, filled with life is her life, her special energy. Everyone she loves is here, in her stories on the canvas. Intimacy, chats, misunderstandings but also empathy, all that exists is to be found in her figurative compositions, built in a rich palette of strong warm hues. Fused both in strong contrast and complementarity, her compositions ask the observer to lend their ocular and intellectual attention to achieve appreciation of the wealth presented in her work.  That is her sincere production of truth (art is a process of truth), a truth meant for everyone.
As an artist, does one get to perceive the miraculous phenomenon of light, the tremor of colour, the lumino-chromatic meanings so specific for Zani's art as objects or perhaps as experiences? The perception of the artist as an observer in opposition to the one of the non-artist can lead to an uncountable variety of readings and different worldly experiences from the paintings. The mystery of the game possesses its own space and its own time through the use of the actual time and space. Zaneta Gelevska Veljanovska takes us to an imaginary world of other realms with endless stories, created by careful consideration of fantasy.
That could be perhaps the desire of any artist: to evoke on the canvas the connection with their internal world. In this she succeeds thanks to her sincerity of an artist and her wealth of experience in comprehension of techniques, structure and texture masterfully used in a well-structured rich composition.
In this presentation she invites the desire to achieve the impossible: fly. We are invited to fly with her, to create our own thoughts, our own stories by entering the delight of the game of perception.
Dijana Tomik Radevska
Artist and Curator of Gallery Acanthus